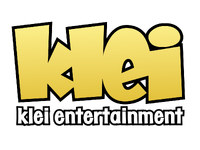 Klei Entertainment is an independent video game development company located in Vancouver, British Columbia that develops downloadable games for PC and Xbox 360's Xbox LIVE Arcade. They are best known for their 2D stealth-platformer game, Mark of the Ninja, and for two other original video game series, Shank and Eets.
Klei Entertainment was founded by Jamie Cheng in July 2005. It is based in Vancouver, Canada. Prior to the formation of Klei, Cheng worked as an intern at THQ's Relic Entertainment studio, where he was a programmer. As of October 2009, the company has 11 employees.
Their first title, Eets, was first released March 27, 2006 for Microsoft Windows, then for Mac OS X on December 9, 2010. Between those two releases the game was ported to the Xbox 360 via the Xbox Live Arcade platform and released on April 25, 2007. Retitled Eets: Chowdown, this version featured 120 new levels and an action minigame called Marsho Madness. The company also assisted with Slick Entertainment's N+, the Xbox Live Arcade port of the Adobe Flash game N. In 2008, Klei developed Sugar Rush, a casual massively multiplayer online game. They announced in late August 2010 that development had stopped and the game was canceled. The company's fourth original title, Shank, was announced at Penny Arcade Expo 2009. It was released on August 24, 2010 for the PlayStation 3, August 25, 2010 for the Xbox 360 and October 26, 2010 on for Microsoft Windows. In September 7, 2012, Klei released yet another original title, Mark of the Ninja, which was considered by many the best stealth game of that year. A Microsoft Windows version was released on October 16, 2012. Their most recent installment is the game Don't Starve, which is currently in Beta.
Eets - Microsoft Windows, Mac OS X (2006, 2010)
Eets: Chowdown - Xbox 360 (2007)
N+ - Xbox 360 (2008)
Sugar Rush - Microsoft Windows (Canceled)
Shank - Microsoft Windows, Xbox 360, PlayStation 3, Mac OS X, Linux (2010)
Shank 2 - Microsoft Windows, Xbox 360, PlayStation 3, Linux (2012)
Mark of the Ninja - Xbox 360, Microsoft Windows (2012)
Torchlight II - Microsoft Windows (2012) (cinematics only)
Don't Starve - Windows, Playstation 4
Invisible Inc.
Community content is available under
CC-BY-SA
unless otherwise noted.